July 9, 2010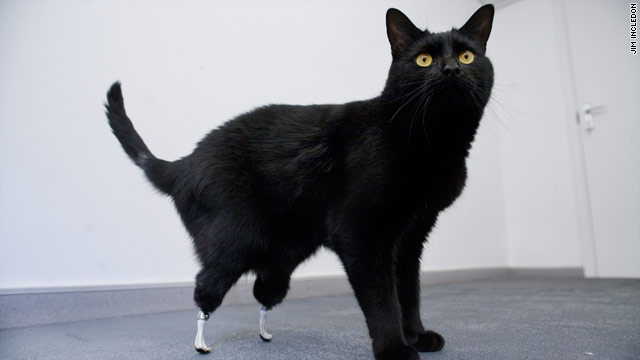 If cats have nine lives, they may have just acquired a 10th -- thanks to a groundbreaking surgery that saved the life of a feline double amputee.
A British cat, Oscar, has made a full recovery after being fitted with a pair of prosthetic feet in November. The cat's hind paws were severed by a combine harvester.
The three-hour procedure, performed at an animal hospital in Surrey, England, by neuro-orthopaedic veterinary surgeon Dr. Noel Fitzpatrick, could serve as a model for human amputees.
CNN
Posted by

Unknown
at 9.7.10
1 comment:

July 6, 2010
"The Internet's completely over. I don't see why I should give my new music to iTunes or anyone else. They won't pay me an advance for it and then they get angry when they can't get it. All these computers and digital gadgets are no good. They just fill your head with numbers and that can't be good for you."
Prince
Posted by

Caleb
at 6.7.10
1 comment:

July 5, 2010
The Attenborough Design Group is a fictional organisation, created by
James Chambers and Tom Judd
. It investigates the use of animal behaviours to defend emerging technologies. These products include the Gesundheit Radio, which sneezes periodically to expel potentially damaging dust, Floppy Legs, a portable floppy disk drive which stands up if it detects liquid nearby, and the AntiTouch Lamp, which sways away from you if you get too close to its sensitive halogen bulb.
Today and Tomorrow
Posted by

Unknown
at 5.7.10
No comments: